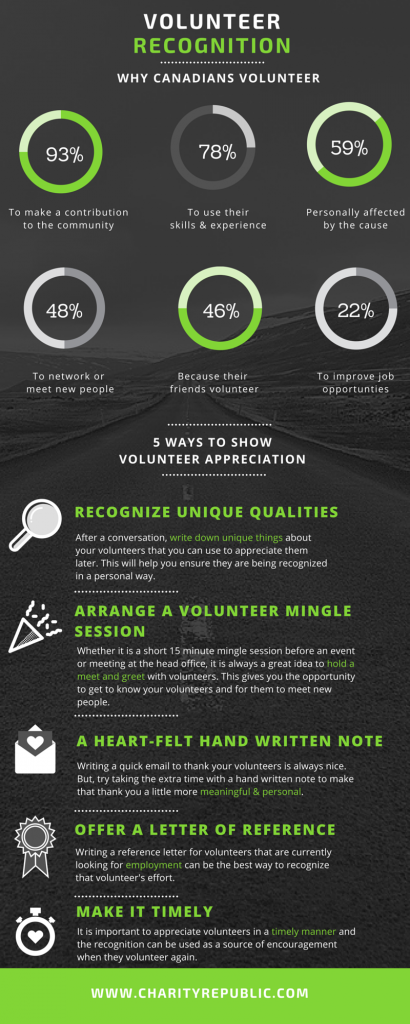 Recognition and rewards can motivate and increase self-esteem for volunteers who may seek to be recognized in a meaningful way.
Before recognizing the efforts of volunteers, it is important to understand why they are volunteering for your organization. Research from Statistics Canada shows the various reasons Canadians volunteer:
93% volunteer to make a contribution to their community
78% volunteer to use their skills and experience
59% are personally affected by the cause
48% use volunteering to network or meet new people
46% will volunteer because of their friends
22% use their volunteer experience to improve job opportunities
Here are 5 simple ways to recognize and show appreciation for your volunteers in a meaningful way:
Recognize Unique Qualities

After a conversation, write down unique things about your volunteers that you can use to appreciate them later. This will help you ensure they are being recognized in a personal way.

Arrange a Volunteer Meet & Mingle Session

Whether it is a short 15 minute mingle session before an event or meeting at the head office, it is always a great idea to hold a meet and greet with volunteers. This gives you the opportunity to get to know your volunteers and for them to meet new people.

 Share a Hand Written Heart-Felt Note

Writing a quick email to thank your volunteers is always nice. But, try taking the extra time with a hand written note to make that 'thank you' a little more meaningful & personal.

Offer a Letter of Reference

Writing a reference letter for volunteers that are currently looking for employment can be the best way to recognize that volunteer's effort.

Make your Appreciation Timely

It is important to appreciate volunteers in a timely manner and the recognition can be used as a source of encouragement when they volunteer again.