The era of employees clocking in at 9 a.m., completing their daily tasks, and then heading to physically clock out – and cognitively check out –  at 5 p.m. is over.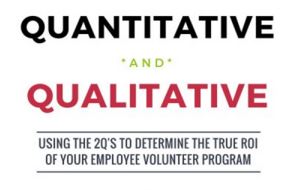 Work is intertwined with home life, and home life is carried into work each day. Technology has contributed to blurring the lines, but that seems to be the way we want it. Why? Maybe because more individuals are investing in their employer and taking pride in their organization's brand – people actually want to be at work.
A huge contributor to this trend is employee volunteerism, which has risen steadily over the last decade. It's a known fact that if you want the best talent you have to offer the best work environment, and lately, that means building an Employee Volunteer Program (EVP). People want to believe in what they do and more often than not this means giving your employees a chance to give back to their communities.
… To continue reading our latest contribution to Volunteer Match, please click here.
Share via social media:
The human side of ROI and corporate volunteer programs by @CharityRepublic on @VolunteerMatch ow.ly/Vk9WL